A seminar project becomes reality: Two IMME students launch CoCoa Group Coaching
06.09.2021 -
Two students who just can't get their seminar project out of their heads dare to take the big step.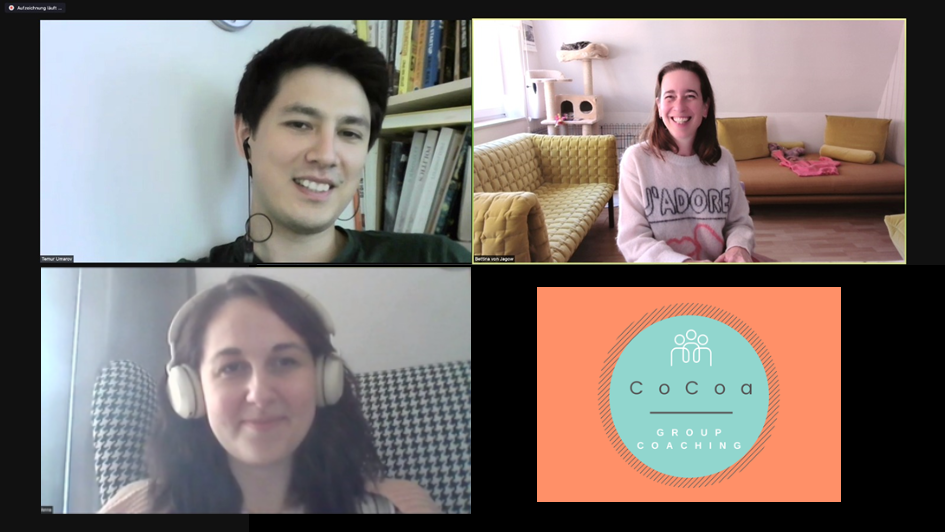 Have you ever experienced that a curricular course at university turned out to be much more than that? Two of our master students would now answer this question with a very enthusiastic "Yes!". In the digital guest seminar "Next Level Leadership" with high performance coach Dr. Bettina von Jagow, the students developed an agile coaching program for the next generation under 30 years. What started as a blueprint for a hypothetical coaching program is now becoming reality.
After experiencing some powerful group sessions and 1:1 micro coachings, Dr. von Jagow and the two seminar participants Anna Mazurczak and Temur Umarov worked together on the realization of the coaching program. Finally, after some digital brainstorming sessions, CoCoa was born. The name is an abbreviation of "CoCoaching", a neologism capturing the essence of the program: peer-to-peer learning is what makes coaching for the young generation so impactful and nourishing.
Only just born, but already making first steps
The co-founders created this program with the intention to empower the young generation to grow personally and to know how to create a life of fulfilment in effortless ease. CoCoa shows that coaching is not only reserved for top managers, but that young and enthusiastic people can trust in coaching as a powerful, affordable, and customized tool of personal development. The program is designed primarily for curious and ambitious career-starters and for all those who want to make a significant shift in their life.
Did you see yourself in this description and are excited to find out what your fellow students have created? The good news is: You can be one of the first to experience their group coachings! CoCoa is inviting everyone who is interested to join the first free trial session on Tuesday, the 7th September 2021 at 7:00 pm via Zoom. For the Zoom-Link or other inquiries, the co-founders are very happy to answer any questions via Instagram (@cocoa_community) or E-Mail (cocoagroupcoaching@gmail.com).

If you would like to know more about the seminar "Next Level Leadership", check out the recap from our digital classroom here.